Bunky Echo-Hawk Artist Series Bat Auction
Now available, our latest Artist Series collaboration with Bunky Echo-Hawk (Pawnee/Yakama), click HERE to purchase one of the remaining bats. 
To celebrate Native American Heritage Month we are auctioning these one-of-a-kind pieces from famed artist and activist Bunky Echo-Hawk.
These custom hand painted bats will provide funding to preserve the historic Mose YellowHorse Memorial Field in Echo-Hawk's hometown for the local Native youth. Auction ends November 30th! 

Photo by Ryan Redcorn
Last year at our Tulsa Sandlot game, we had the honor of hosting a live painting event from artist Bunky Echo-Hawk. During the game, he painted 12 Warstic bats in his distinct style. Each bat is unique and one of a kind, offering a bold and defiant message in a beautiful and thought provoking package.
Bunky Echo-Hawk is an internationally known visual artist whose work is featured in gallery and museum exhibitions throughout the U.S. and overseas. Widely collected, his paintings are held in numerous private, public, corporate, non-profit and Tribal collections. He has worked with Nike, serving as the Design Consultant for the Nike N7 line since 2011, and recently partnered with Pendleton Woolen Mills to create a blanket for the American Indian College Fund. Through his art and strategic partnerships, he has aided in raising millions of dollars for Indian Country.
The funds raised with this Artist Series bat action are staying in Oklahoma, to assist in the effort to maintain and preserve Mose YellowHorse Memorial Field in Pawnee. Team Warstic coach and Pawnee Resident, Gib Beard came to us with that project. YellowHorse was the first full-blood Native American to play in the MLB. He is also featured on two of the bats painted by Echo-Hawk, who also calls Pawnee home.

Gib Beard & son Cash

Team Warstic Pawnee Wolf Clan
Gib Beard & Jack White at our 2018 Tulsa Sandlot
Throughout the month of November, we will continue highlighting the contributions of Native Americans in baseball, as well as groups we partner with that are working to support native peoples.
Click HERE to bid on the bats, and see full size images of all the bats with Bunky Echo-Hawk's descriptions and inspiration on each one below:
White Horse - "This bat features an image of White Horse, a Pawnee Scout from the 1800s. It also features the four sacred colors, and an iconic Indigenous gas mask image. It illustrates the fact that now, just as then, we are fighting for basic human rights for our communities. Then, the fight was to protect our access to our land. Now, it's about protecting the environment of the land we have left." Echo-Hawk
Stoodis - "This is a growing sentiment throughout Indian Country that encompasses a strong attitude. It translates to "Let's Do This". The bat also features the sky, changing from night to day, which signifies the transition of prayer into fruition." Echo-Hawk
Decolonizer - "This bat is my personal favorite. It features paint splatters, an ode to my drop cloth and painter pants. Together, the splatters on my jeans and drop cloth represent places I've been, paintings I've created, and stories that I've illustrated. The word written on the bat is a sentiment embraced by many; we must de-colonize to protect our culture for future generations. This means that we must once again become fluent in our language and culture, and adapt to this changing world through a modern indigenous lens. Just as a bat is a tool used to score and ultimately win, so is the process of decolonization." Echo-Hawk
STOODIS - "This is another ode to the growing term throughout Indian Country, translating to "Let's Do This" in a reservation accent. It also features a sky, with moving clouds, which represents the realm of prayers." Echo-Hawk
Mose YellowHorse - "This bat is an ode to Mose YellowHorse, who was a full-blood Pawnee who became a professional baseball player. He played for the Pittsburgh Pirates from 1921-22. The bat features team colors." Echo-Hawk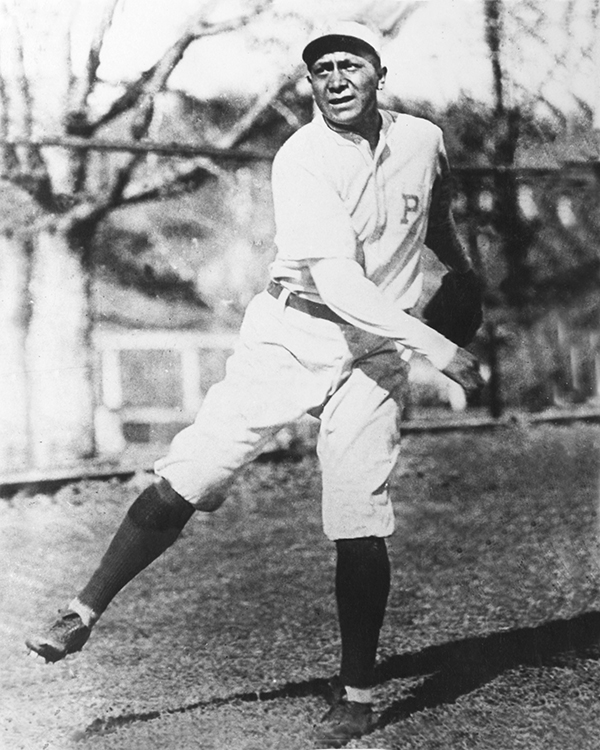 Photo from Society of American Baseball Research
White Horse - "The bat also features White Horse, the Pawnee Scout. I just love the juxtaposition of a historic image and a modern baseball bat. We revere our ancestors and carry them within us daily." Echo-Hawk
Boarding School Bat - "This bat features a historic photograph of an Indian Boarding School baseball team. The Indian Boarding School era was a racist, genocidal policy initiated by the US Government and implemented by various churches. The government performed a study and found that it would be cheaper to "educate" the Indian population versus killing them all. The plan was to "kill the Indian, save the man", meaning that the goal was to whitewash the children, who were stolen from the homes and placed in boarding schools throughout the country. Many children died in custody of the schools, punished to death for singing their songs, speaking their languages, or trying to run away. Some students conformed out of sheer survival necessity, and some became well known athletes, such as Mose Yellowhorse (who "attended" Chilocco Indian School) and Jim Thorpe (who "attended" Carlisle Indian School)." Echo-Hawk
1491 - "I often use this number, the year before columbus arrived in this hemisphere, as a reminder that our culture once had 100% fluency and societal balance. To me, it is a goal to restore our communities to that level of health." Echo-Hawk
Mose YellowHorse - "This is another ode to Mose YellowHorse, but with abstract and Pawnee symbology and color. It's in honor of his Pawnee culture." Echo-Hawk
SKODEN - "This bat features the color of fire, which represents change and the life force. "Skoden" is a growing slang term, much like "stoodis", and translates to "Let's Go Then" in a reservation accent." Echo-Hawk
SKODEN - "This is another bat that features the term "Let's Go Then". It features a nod to my drop cloth and my painter pants, which also represent other paintings, other communities, and other stories told through my paintings." Echo-Hawk
WhiteHorse - "This bat also features Whitehorse, the Pawnee Scout. It features the his image along with abstract paint splatters, as well as 4 pointed Pawnee stars." Echo-Hawk